Link directory of Ljubljana Bus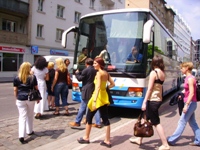 Ordering travel and holiday through the web becomes more important from day to day. In order to help you to find your way among the many online offers of tour operators, hotels and other service providers, the team of Ljubljana Bus presents you a collection of interesting tourism, travel and holiday related websites from Europe and from other places in the world on this page. If you are a webmaster of a holiday and travel website and wish to exchange links with Ljubljana Bus, you are welcome to write us to .
Tour operators in Europe and elsewhere
The following tour operators offer travel and holiday arrangements in Europe and elsewhere in the world:
City Tours Austria: tailor-made travel arrangements in Austria for groups and individual travellers.
Vehicle rental in Europe and elsewhere
Please find below some interesting websites offering charter bus service and other vehicle rental in Europe and in other places worldwide:
Other travel and holiday services
Furthermore, we recommend you a visit to the following websites, offering various kinds of tourism service in Europe and throughout the world:
International bus transfers: charter bus service for transcontinental transfers in Europe with pricing examples for transfers beginning in Vienna.
Travel London: Tourism and travel guide, find the best of London.
Get in touch with Ljubljana Bus
To contact the staff of Laibach Bus, please write us to . We are looking forward to reading from you!